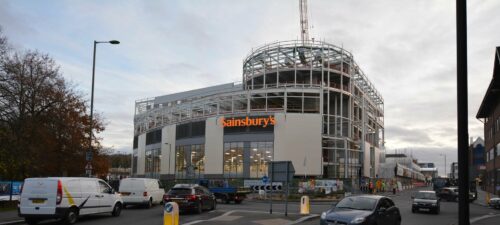 Warwick Quadrant, Redhill Town Centre.
Client: Sainsbury's
LPA: Reigate and Banstead Borough Council
DevComms is currently providing communications support throughout the delivery phase of the Warwick Quadrant Regeneration project in Redhill.

The scheme is a joint venture between Sainsbury's, Aviva Investors and Reigate and Banstead Borough Council. It will deliver a new Sainsbury's supermarket, Travelodge hotel, 'The Gym Group' gym and significant public realm improvements.

The Warwick Quadrant site is situated at a prominent gateway location in the town centre, immediately adjacent to commercial offices, Redhill Library and the Harlequin Theatre, and directly opposite residential areas.

Given the nature and location of the project, there are a wide range of external stakeholders to engage with, including local residents, local businesses, local media, Redhill Library and the Harlequin Theatre, as well as all relevant leading and local politicians.

Careful media management has been extremely important to ensure that the wider community is kept informed about the scheme and that the potential for positive press coverage is maximised. This has included press releases and site tours, as well as ongoing dialogue with journalists.

In addition to this media engagement, a range of other communications methods have been employed to ensure that all stakeholders are kept informed, including:



Quarterly update newsletters issued to approximately 500 households and businesses situated in the vicinity of the site;

Letters to site neighbours to advise of upcoming works;

Creation and management of a dedicated Twitter account providing regular and real-time updates to the local community;

Project phone line and email address, listed on all communications materials, providing a convenient method of contact for the local community;

Project website, with the Twitter feed embedded, providing detailed information about the redevelopment.