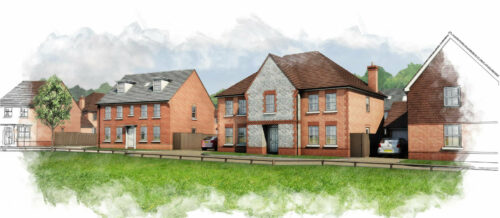 Mill Springs, Whitchurch.
Client: Barratt David Wilson Homes
LPA: Basingstoke & Deane Borough Council
Our team assisted Barratt David Wilson in the promotion of a greenfield site through the Whitchurch Neighbourhood Plan Process.

We engaged with the key Neighbourhood Plan decision makers and members of the local community to understand the key issues and requirements for the Neighbourhood Plan and town.

The initial engagement enabled a compelling case to be developed for the development of 100 new homes alongside new sports pitches and a school bus drop-off point. This strong case, alongside strategic engagement, resulted in the allocation of the site in the Draft Whitchurch Neighbourhood Plan at the Regulation 14 consultation stage.

Due to a speculative application from a competitor, an outline planning application was submitted in advance of the Neighbourhood Plan progressing beyond Regulation 14 consultation stage.

Through ongoing public and political engagement, all substantive issues were resolved prior to committee stage and the outline proposals were approved, with all but one member supporting the proposals.

We also provided strategic communications support on the Reserve Matters planning application and through ongoing engagement with all parties, secured a unanimous approval at the planning committee in March 2017.

One of the local Ward members and Town Councillors spoke in support of the application at the planning committee and offered the consultation process undertaken on the application as an example of best practice.